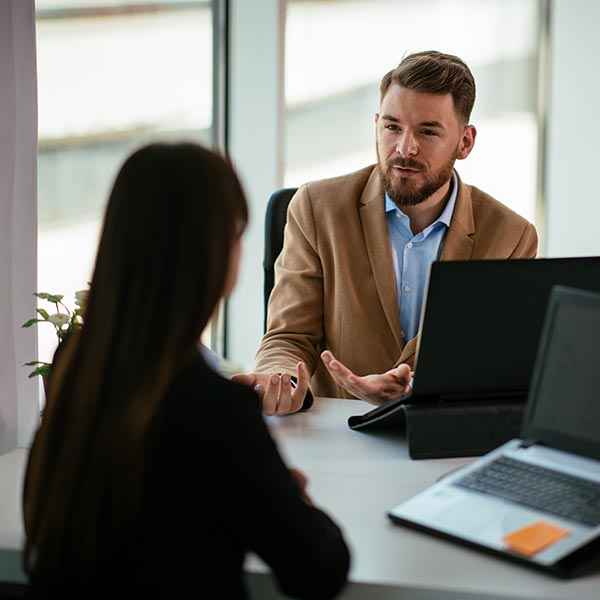 Hiring
Recruiting and hiring people with disabilities
Playbook
Why does disability inclusion matter to small businesses?
According to the 2019 Insights Report by Goldman Sachs,[1] finding and keeping talent has become the number one barrier to success for small businesses. Studies have shown that the performance and productivity levels of workers with disabilities do not significantly differ from other workers. Also, several studies show that workers with disabilities have significantly lower turnover rates than workers without disabilities.[2] Hiring people with disabilities is a sound investment in the future of your small business.
Finding qualified talent with disabilities
Where you search for workers makes a big difference. And it's a decision you can't afford to get wrong. Are you inadvertently screening out valuable talent because you're not casting your net wide enough? If you are recruiting only from mainstream, traditional sources, you might be. Check Finding Candidates with Disabilities, a resource from the Employer Assistance and Resource Network on Disability Inclusion (EARN), to find out.
Consider partnerships
One-off recruiting and hiring is costly. By partnering with community or national disability organizations, employers can access a steady stream of talent. Many of these organizations provide free or low-cost support services, such as coaching new employees, job-specific training, and information about tax incentives for employers who hire people with disabilities.
How can you build sustainable partnerships with these organizations? Here are three things to consider.
1. Risk and benefits
Don't hesitate to share your concerns about potential risks with employment service providers in your area.
2. Where is your pain?
What jobs are the hardest to keep filled? Why? Talk though your hiring pain points with employment service providers in your area. Make it clear that if they can't help with the pain points, the partnership probably won't work.
3. Trying something new
Are you willing to try new ways of getting work done? By thinking through this question, you'll be better prepared to lay the groundwork for a sustainable partnership. Sometimes, in a small business, a few questions might highlight areas where extra help might increase efficiency. Consider the following:
What isn't getting done on a regular basis that should be? Does filing or mailing back up for lack of staff focus?
What marginal tasks could be removed from high-skill employees to increase their efficiency? For example, removing tasks like data entry or cleaning could free up customer service staff so that they can make more sales.
Where are you paying overtime? If your office manager works every weekend to catch up on billing, maybe a billing clerk would save you money and give your office manager back her weekends.
Are there areas where you would like to innovate to improve revenue? For example, if your business serves the over-65 community, would a door-to-door delivery service increase your appeal?
If you answered yes to any of these questions, consider speaking to a local employment service vendor to find out if they can help. They are always looking for opportunities for people to work in local communities.
Keeping it legal
To keep your hiring process legally compliant, consider hiring in two phases.
Phase 1: Prior to making a job offer
Before making a job offer, avoid any questions that force the applicant to reveal a disability. You should not ask questions like these:
Do you have any disability that would prevent you from doing this job?
Have you ever used workers comp?
How many sick days did you use in your last job?
Are you currently taking any medications?
Phase 2: After the job offer but before work begins
After a job offer has been made but before work has started, you may collect some medical information about the applicant. If this reveals a disability that prevents the applicant from performing an essential job function and that can't be accommodated, you may withdraw the job offer.
Accommodations during hiring
Employers are required to accommodate applicants with disabilities who need an accommodation in order to participate in the hiring process. However, many applicants with disabilities will not need accommodations to go through the hiring process.
Typical accommodation requests for an interview are simple to provide, such as an accessible location or written materials in electronic format.
Are you a federal contractor?
About one-third of small businesses in the United States have a contract with the federal government. If you are among them, you might have accountability for hiring people with disabilities under Section 503 of the Rehabilitation Act and VEVRAA. Part of this accountability involves tracking the number of people with disabilities in your applicant pool. During hiring, you'll need to invite applicants to voluntarily identify as a person with a disability or a veteran.
Make your hiring process accessible
A recruiting and hiring process that's accessible to people with disabilities will be more accessible to everyone. How can you ensure that your hiring process is fully accessible? Consider the following questions:
Do you inform applicants about their right to an accommodation and how to request one?
Are in-person recruiting and hiring functions (such as career fairs, interviews, and applicant information sessions) held in accessible locations?
Are your online job announcements, postings, and all other hiring information given in an accessible format?
Keeping your talent
Retaining talent is a competitive advantage for small businesses. Turnover costs you more for several reasons. With fewer employees in each role, it's harder to backfill with other employees when someone leaves. Employees who leave sometimes take their customers with them. Finally, without a large, dedicated HR department, hiring tasks fall to supervisors or other employees, taking time away from other work and causing further disruptions in operations. For these and other reasons, it costs small businesses, on average, about 100% of annual salary to replace a lost employee.
Preventing turnover
Disability-inclusive workplace practices are also great strategies to retain all talent, both with and without disabilities. Consider these tips:
Listen to employees; know their pain. A rule of thumb: Workers don't leave jobs; they leave hostile bosses and co-workers. They leave negative or difficult work environments. Workplaces with good disability inclusiveness tend to be those with a level of trust and caring that is more likely to retain all workers, not just those with disabilities. Small businesses report that their employees are often their families, so make sure everyone has a seat at the dinner table.
Inspire employees. People want to stay in a workplace that does the right thing. Disability inclusiveness sends a message about what you stand for as business.
Accommodate employees. All employees, whether or not they have a disability, are less likely to leave if they are accommodated. In nearly all cases, it will cost far less to accommodate an employee than to lose them.
Hire right. Hire people who are more likely to stay in the job. Because employees with disabilities are less likely to leave their jobs, many small business employers have gained the loyalty dividend they bring to the workplace.
Find out why employees leave. Most employers don't find out an employee had a problem until they submit their resignation. Consider conducting exit interviews to find out what you can do to prevent further turnover. Often, exit interviews will reveal issues related to disability inclusiveness, such as harassment of co-workers who are different, failure to flex to workers' needs, or supervisors who do not promote a trusting environment.
References
[1] Goldman Sachs. (2019). Voice of small businesses in America: 2019 insights report (PDF).
[2] Hernandez, B., & McDonald, K. (2010). Exploring the costs and benefits of workers with disabilities. Journal of Rehabilitation, 76(3), 15–23; Romano, S. T. (2003). For firms, hiring disabled people offers a big payback. Crain's Chicago Business, 26(14), 9.