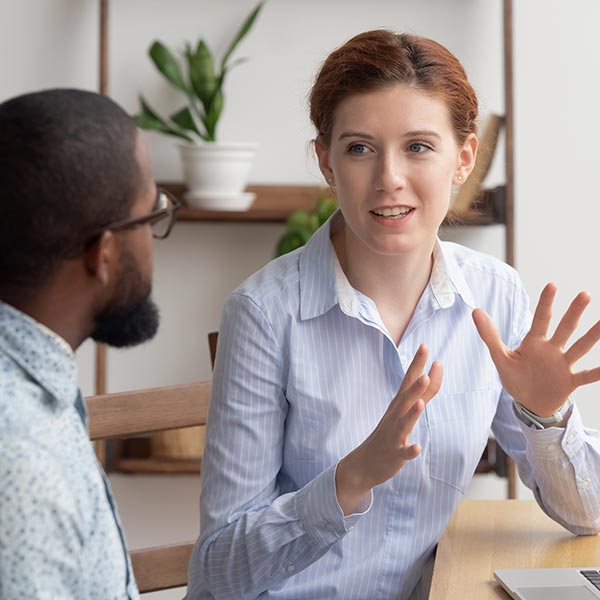 The ADA
The Americans with Disabilities Act (ADA) in a small business
Scenario 1: James and night work
James, a Certified Nurse Assistant, is a home health aide with WeCare Services, an in-home healthcare service for the elderly that has 59 employees. His performance has been solid, and his clients frequently request him.
Three months ago, James was diagnosed with multiple sclerosis. On the suggestion of his doctor, James has requested the accommodation of a schedule change (not working nights) because his condition will be exacerbated by irregular sleep. His employer said this would not be possible because there are not enough people to cover nights. The boss told James that he would be let go if he didn't work nights.
James filed an ADA charge with EEOC. When WeCare was investigated by an EEOC agent, they found several instances where other employees had been granted similar schedule changes for reasons unrelated to disability. Also, EEOC investigators were unable to find anything in James' job description that showed that night work was an essential function of the job.
Think about it. What needs to happen?
WeCare made four mistakes here:
WeCare failed to recognize that James's medical condition was covered as a disability under the ADA.
WeCare terminated James without making any good faith effort to accommodate him, as required under the ADA.
WeCare did not have a uniformly and fairly applied policy, as they had granted schedule changes to other employees without disabilities.
WeCare had not identified essential versus marginal job functions (tasks) in the job description, so it was unclear whether night work could be seen as an essential function.
But perhaps the biggest mistake they made was losing James. Certified Nursing Assistants are hard to find and even harder to keep.
The takeaway
WeCare did not know the basics of the ADA. If they had made a free and confidential call to their regional ADA Center, they would've spoken to an ADA expert and received guidance that might have prevented this situation.
Scenario 2: Grace and her supervisor
Grace is a customer support specialist at Expert Services, a company with 127 employees that provides outsourced IT support to large companies. Expert Services also has a federal contract to provide services to some federal offices. Grace is a veteran who returned 4 months ago from overseas service.
During a performance review last month, Grace told her supervisor that she got a mild traumatic brain injury while on her last deployment. This is causing her to be a little slower in her job, as she has some short-term memory problems. The supervisor thanked Grace for her service and listened empathetically to her situation. He also told her about a good doctor he had used when one of his sons got a concussion while playing sports. Then he gently reminded her about the job expectations and that he hoped she could improve enough to meet them in the near future. Though Grace thought they had a friendly conversation, she was hoping he would have some better ideas about how she could improve her work speed.
Think about it. What needs to happen?
While the manager's support was appreciated, the manager should also note that Grace has made a request for a reasonable accommodation during this conversation. The manager now has a responsibility to move this request forward to make sure Grace gets a reasonable accommodation that will help her be successful. This starts with an interactive dialogue to verify the disability, find out what part of the job is hard for Grace, and find an effective solution. Managers and supervisors are often on the front line of disability issues, particularly those around accommodation. Make sure your managers recognize the request and know how to proceed. Let them know who in the organization can assist, whether it's HR or the owner of the business.
The takeaway
Expert Services leadership needs to ensure that all managers, supervisors, and employees are fully aware of their rights and obligations under disability law.
The scenarios, including all names, characters, and incidents portrayed on this page are fictitious. No identification with actual persons (living or deceased), places, buildings, or products is intended or should be inferred.